Captain Cecil Robert Tidswell
Captain Cecil Robert Tidswell served with the 1/Royal Dragoons in the Boer War and in India. He was awarded the Kings Medal with five clasps during the Boer War. He served with the Cavalry for two years on the Western Front before transferring to the Royal Flying Corp believing that aviation was the future.
 He arrived back in France having qualified as a pilot in July 1916. It says a lot about the prospects of the early pilots that when he was killed just three months later he was the most experienced pilot in his Squadron.
In a letter to the family his Squadron Leader wrote "Your son was the leader of a bomb raid about seven miles over the lines. He was seen to have dropped his bombs and had turned to come back when some hostile machines were encountered. These were driven off after a short combat and the last that was seen of the leader was when he was gliding down apparently to attack a Hun, but was quite possibly from engine failure…
"… We all feel his loss and I particularly heavily, because he was the senior Flight Commander and my right hand man; he was a great asset to the Squadron and to the mess and in another month would probably been promoted to Squadron Commander." (Somme Success – Peter Hart)
Initially all hoped he was a prisoner of war but other records show that he was killed on impact and was buried by the Germans in the wreckage of his burnt out plane.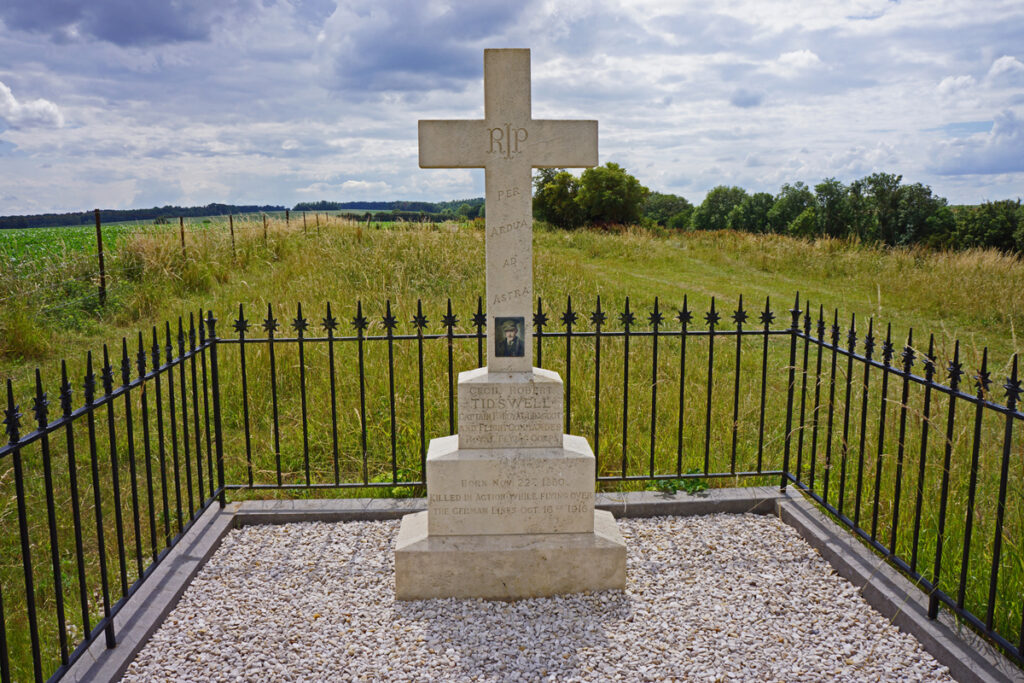 The Imperial War Graves Commission (that went on to become the Commonwealth War Graves Commission) did staggering work in recording the isolated graves on the battlefields, eventually exhuming them and moving them to cemeteries where they could be looked after. The IWGC also received many requests for graves to remain undisturbed and wherever possible they did so, on condition that the family took responsibility for the maintenance. Thus up and down the Western Front there are numerous individual graves such as that of Captain Cecil Robert Tidswell.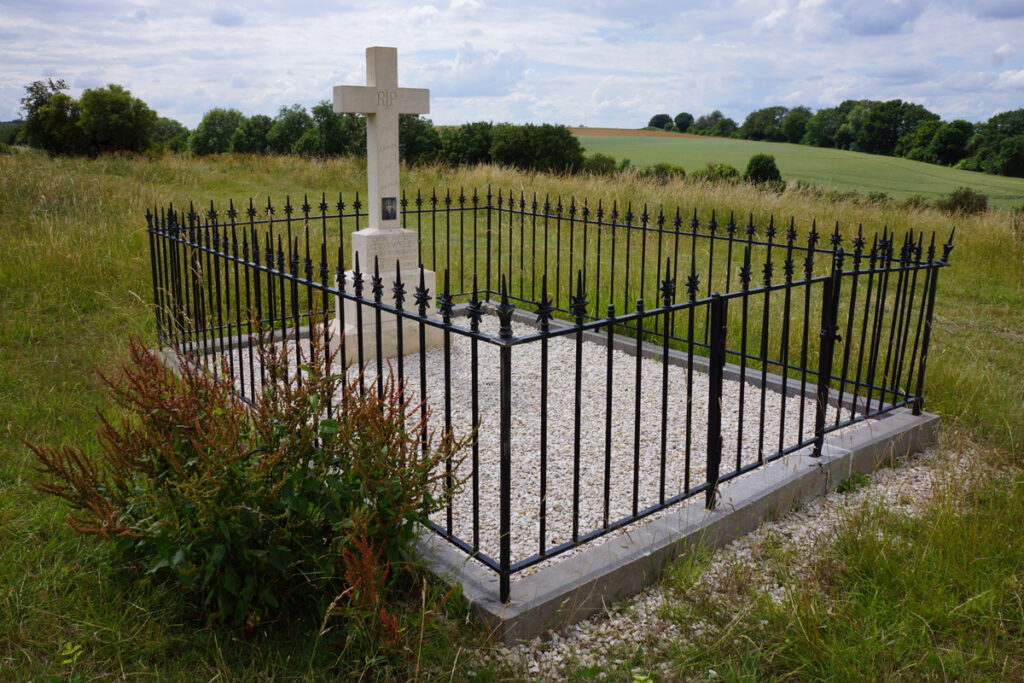 His grave is in a quiet field just outside Etricourt and originally was surmounted by a rose bush planted by his mother and surrounded by a box hedge. Over the years it became neglected and the CWGC in the 1930s offered to exhume him but the family resisted. Since then the CWGC has maintained the site and when it needed major work in the 1990s they contacted the family who refurbished it preserving the memory of Captain Tidswell. It is a beautiful memorial and a tribute to all concerned that the family's wishes have been upheld and the gravesite has been maintained in such an isolated spot, all these years to such a high standard.