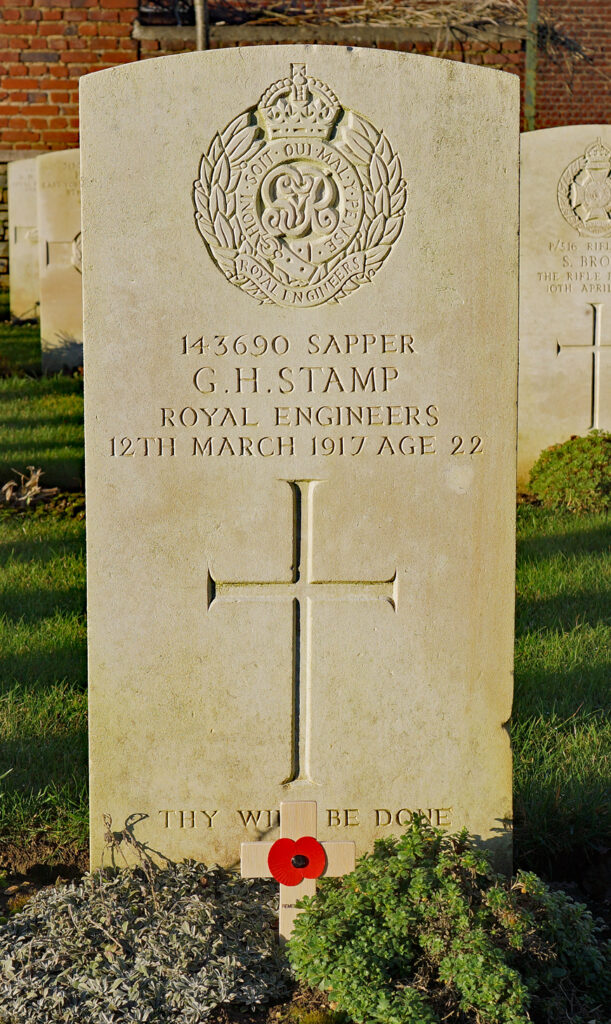 George Stamp was born 1894 to John and Frances Stamp in Oldham. Five years later his sister, Ivy Mary was born.
In around December 1915, George enlisted into the 89th Field Company, Royal Engineers and after training, he moved to France & Flanders.
During March 1917 George's unit was based in Arras, At the beginning of the month the 89th Coy. were in the Ronville and Achicourt areas of Arras. Their tasks included road bridge works, dugouts and constructing positions for heavy and medium mortars.
On 9th March George was one of six of his unit who volunteered for a raid on the German lines with the 6th Battalion Kings Own Yorkshire Light Infantry. The raid was to take place on March 12th.
On March 12th Captain Leatham, led the 6th K.O.Y.L.I and the six Royal Engineers in the raid at the Brickfields, north of Beaurains. The Germans defending were men of the 100th Saxon Reserve Regiment. The records show that all those who went over the top were greatly impressed by the physique of the Germans and said they put up a great fight.
The raid was successful although British casualties were unfortunately very heavy. 33% of those who went over the parapet were either killed, wounded or missing. Out of the six men from 89th R.E, one was killed and two wounded. Sadly, the Sapper killed was George, who is now buried in plot D.27, Beaurains Road Cemetery.