You may remember that John was researching his own family during lockdown. One of the most poignant stories to come to light is that of his Great Uncle Victor. I would like to think that his is an unusual story, but the truth is that many soldiers had similar experiences—it was simply not talked about.
Victor Herbert Wills was born in 1896 in Montacute, Somerset. His father was a stone mason in the nearby quarry at Ham. His mother, like many local women, was a glove maker, working from home.
Since Elizabethan times life in Montacute has revolved around Montacute House and its estate, and the fortunes of the village would have reflected those of the big house. Sadly, by the time Victor was born, the estate was struggling, its wealth having been gambled away by the previous generation. Indeed the Phelips family who had built the house in 1598 moved out in 1911. They could no longer afford to live there.
By rights Victor should have followed his father into the quarry, a hard life especially at that time. Instead in 1915, at the age of 17, he travelled to nearby Yeovil and enlisted in the Somerset Light Infantry.
Initially he was posted to the 3rdBattalion, but, once trained, he was transferred and joined the 1stBattalion in Belgium. After some time in the Ypres sector the battalion moved south to the Somme.
On the 1stJuly 1916, Victor was with the 1stSLI fighting for a portion of the Redan Ridge, where Serre Road No. 2 Cemetery is found today. He survived the day, but not unscathed; he was shot in his right arm. He was first treated at the 12thField Ambulance at Bertrancourt over 7 km away. He is likely to have walked there. All the medical facilities were overwhelmed that day, the casualties being 20,000 killed and 40,000 wounded, numbers never seen before or since by the British Army. Two days later Victor was admitted to the 11thGeneral Hospital situated at Camiers, near Etaples, on the coast. He was to remain in Camiers for two months before returning to his battalion on the 1stSeptember.
The Battle of the Somme was still rumbling on, and on the 10thOctober 1916 Victor took part in an attack on the German lines at Le Transloy. He was wounded again, this time in the left foot and sent to the 44thCasualty Clearing Station at Puchvillers. From there he was sent to 6thGeneral Hospital at Rouen.
A month later he rejoined his unit back in the line, but his foot continued to give him problems throughout that winter. It even put him back in hospital, the 12thField Ambulance, at Haut Avesnes, from 5thto the 12th April 1917.
By the 3rdMay 1917 Victor was once again fighting fit. The 1stSLI were tasked with an attack on Rœux as part of the Battle of Arras. This time he got his "blighty one," a gunshot wound to the right thigh and abdomen. The following day he was readmitted to the 12thField Ambulance, 20km from Rœux. It would have been a long and painful journey.
He was transferred to the 11thStationary Hospital at Rouen but it was to be over a month before he was considered stable enough to travel back to England where he was admitted to the 1stNorthern General Hospital in Newcastle, a long way from Montecute.
Victor stayed in hospital for two months before he was discharged, but this time he did not return to the front. He was deemed "No longer physically fit for war service." On October 3rd1917 he left the army after serving 2 years and 221 days. 
It is hard to imagine what it must have been like for this young man to find himself back home in Montecute. He would not have been fit enough to work alongside his father in the quarry and the general work situation in Montecute was not good.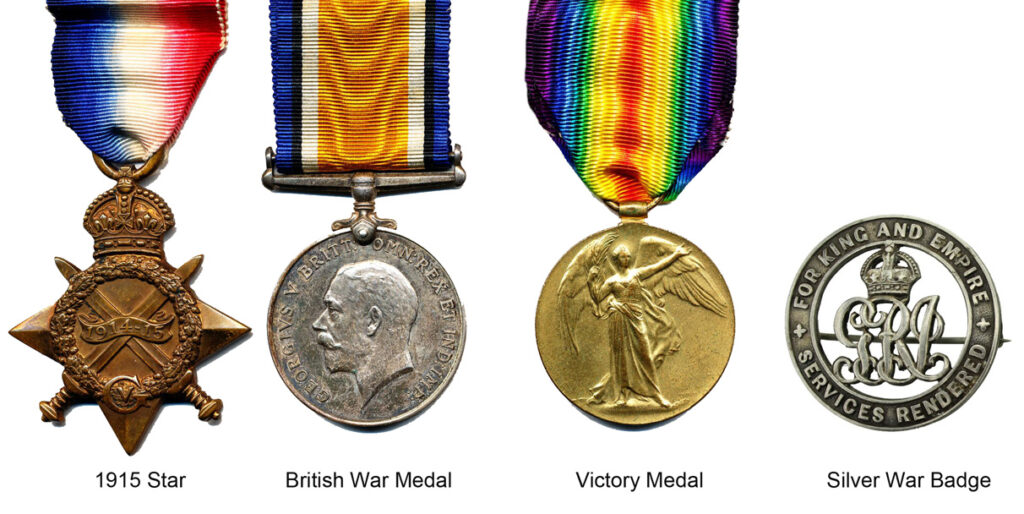 For his military service Victor was awarded the Victory Medal, the British Medal, the 15 Star and the Silver War Badge and in July 1920, nearly three years after his discharge, the army agreed to pay Victor a pension. By that time it was too late.
In May 1919, possibly when he was staying with his brother in London, Victor fell ill and was subsequently sectioned and admitted to the Surrey County Asylum at Cane Hill. He was transferred to The Western Joint Asylum, at Cotford, near Taunton, in the November, and diagnosed as suffering from shell shock. He was just 21. The names listed as next of kin indicate that he was in no way abandoned there. Not just his parents, but his two brothers, two sisters, two brothers-in-law and a nephew are named. They would have been all too aware of what he had been through.
 Victor was to remain institutionalised at Cotford until his death on 25thSeptember 1975, having been confined for 55 years, 10 months and 1 day.
We will remember him.