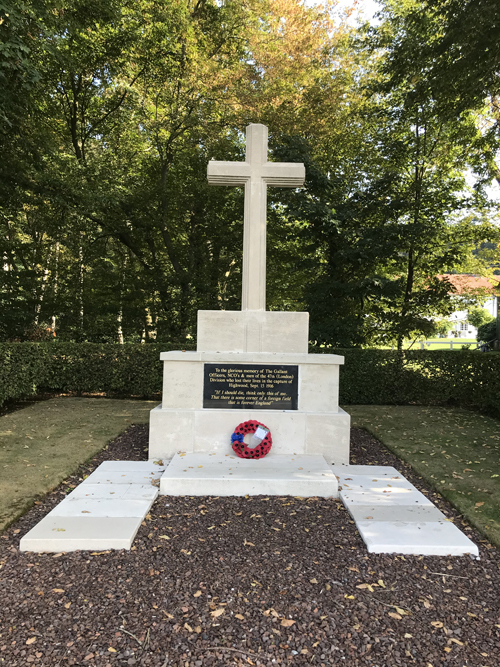 It's hard to plan anything at the moment. One never knows what will be possible until the last minute. However the third Sunday of September is traditionally the day that we commemorate the action of the 47th (London) Division at High Wood so, in glorious sunshine, we headed up to the memorial to lay a wreath.
The 47th(London) Division attacked here on the 15th September 1916 and over the course of that day cleared the wood. It was heavy going and casualties were high on the 15th and on the subsequent days as, in driving rain, they pushed on towards Flers.
Many thanks to Rebecca Prissette for her prayer and to Simon Prissette for reciting the poem "In Flanders' Fields" by John MacCrae and for playing "God Save the Queen" on the clarinet.
Thanks also to John who, with the help of modern technology, conjured the Last Post and the Marseillaise literally out of thin air. (It was wonderful, given the circumstances, but Fusilier Corps of Drums we so missed you!)
Our little ceremony included the 20th Royal Fusiliers (City of London Regiment), one of the Public Schools Battalions, they attacked here on the 20th July 1916.
For all those of you who could not be with us yesterday I have transcribed Rebecca's prayer.
Loving Heavenly Father,
Standing here in this place surrounded by graves, tangible reminders of death and mortality, markers of the cost of a terrible war, we come humbly before your throne of Grace.
We thank you for the lives of these men, who left home and all that was dear and familiar, some coming from thousands of miles away to fight for a cause they believed just. We thank you for their sacrifice. "For our tomorrow, they gave their todays."
Father we pray for the families and friends of those who are at war or who like these men have never come home. Please hold them in your loving arms and comfort them. "Blessed are those who mourn for they will be comforted."
We thank you, Father, for the peacetime that we have known in our own lives. We have not faced war on our doorstep.
We pray for the places where war is still raging, places where war has ravaged the land and its people. Please bring peace. Please bring healing and forgiveness. "Blessed are the peacemakers for they will be called the children of God."
We look also to the cross of sacrifice and are reminded that you too know the cost of sacrifice. You too sent your beloved son to his death, a young man, just 33 years old, who had done no wrong. You know what it is to be a bereaved father. You know what it is to die a painful and appalling death.
Lord we thank you for your ultimate sacrifice. You paid the full price for us. Death did not defeat you. You are mightier than the grave. Jesus rose again! Thank you, Father, that death is not the end, that through your love we can live forever by your side.
Thank you Father for this morning, for this opportunity to reflect and give you thanks and to intercede for those in trouble. Please help us to move forward in your love, remembering what has happened and striving to not let it be in vain. Lead us on our journey. Guide us and keep us and make us channels of your peace.
Amen