Leopold George and Ann Eliza Shreeve
This is the story of a British couple, George and Ann Shreeve, who made a life and raised family in France after the First World War.
Leopold George Shreeve (known as George) was born in 1886, in St Pancras, London, the youngest of 10 children. We know that he worked as a railway porter at Marylebone station and as a 'milk carrier'. In 1912, at the age of 27 he married Ann Eliza Catherall and they started a family.
At the outbreak of the First World War, George and Ann had two children, Amy Beatrice and Leopold Ernest. George enlisted in the Royal Fusiliers. At some point he was transferred to the Labour Corps, perhaps as a result of being wounded. He served until October 1919 and, in that year post Armistice, he would have been involved in the battlefield clearance and the early consolidation of the cemeteries.
In May 1920, having been refused a pension, George joined the Imperial War Graves Commission and brought his young family to France. He was initially employed as a gardener's Labourer, but was quickly promoted to Gardener and became a Gardener Caretaker on 1st April 1928. The family flourished In France, having three more children George Henry Douglas in 1923, Raymond Marcel in 1928 and Leonard Thomas in 1930.
At the outbreak of the Second World War the British IWGC staff working in the cemeteries in France were advised to stay put. Indeed some stayed throughout the war. But when the Germans invaded France in 1940 many joined a convoy of staff heading for the coast and "home."
The following report, given by George's friend W.G.Price, is reproduced courtesy of the CWGC archives and taken from their website.
"On May 19, 56-year-old gardener Leopold Shreeve of Vendresse-Beaulne was riding in a car driven by his friend, gardener W.G. Price, when they encountered a German roadblock near Corbeny. At the sight of German tanks, Price turned the car around, but five soldiers opened fire, striking Shreeve in the stomach. "I think I'm hit," Shreeve told Price. He bled to death on the way to a French military hospital. He is buried in Vailly-sur-Aisne Communal Cemetery and commemorated on the rolls of the Civilian War Dead of the Second World War."
George's wife Ann and her two youngest sons were among 250 IWGC employees who arrived back to England on June 14th1940. She travelled to Highbury to stay with her mother.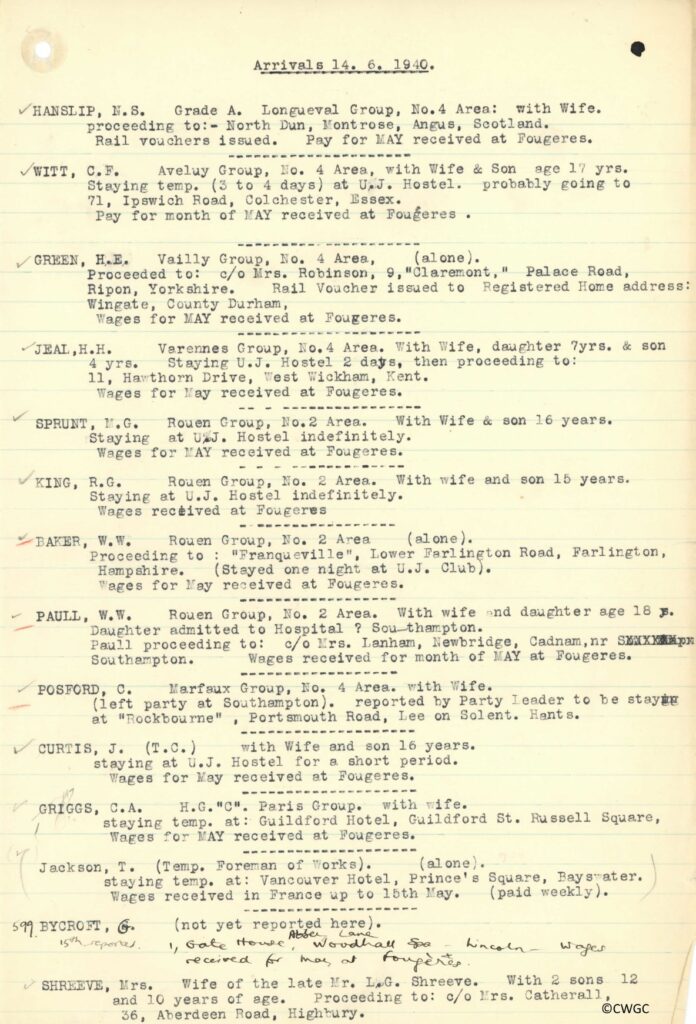 Their oldest son Leopold had also joined the IWGC in 1937 but had left in 1939 and enlisted with the Royal Engineers. He returned in 1946 and was still working for the IWGC in 1977, when the Royal Horticultural Society awarded him a long service medal for completing 40 years service as a gardener with one employer. Leopold died 21stJune 1987.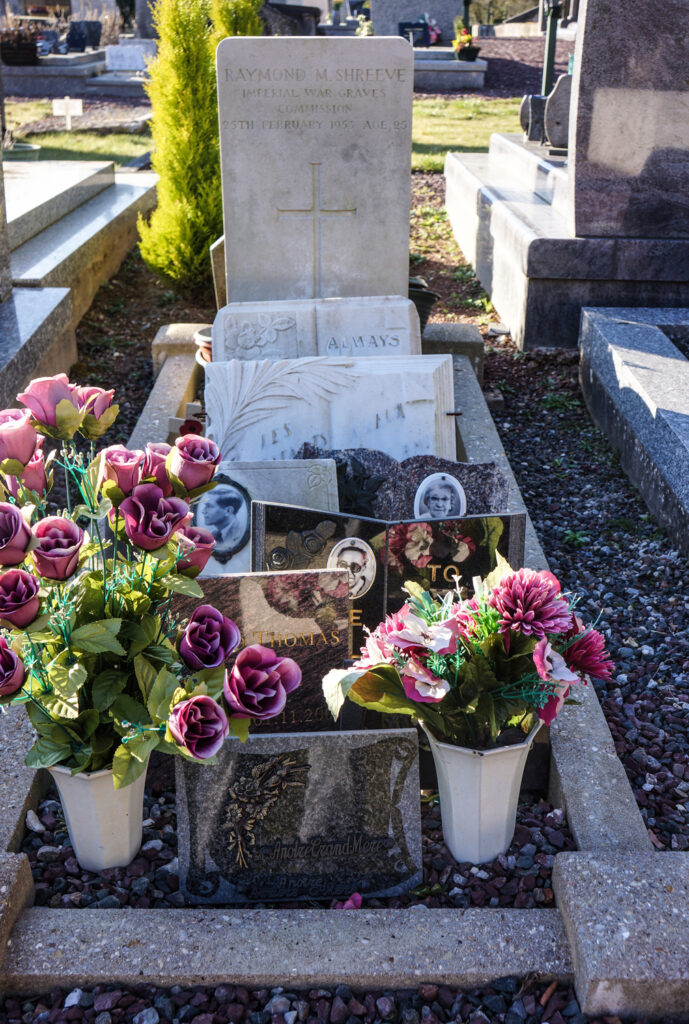 Raymond Marcel, who had travelled with his mother to England in 1940, returned to France after the war and became a Pupil Gardener on 31stMay 1948. He was promoted to Gardener's Labourer on the following year and again to Gardener on 15thOctober 1952. Raymond died in post on 25thFebruary 1953 at the age of just 25. He is buried in Salouel Communal Cemetery in France.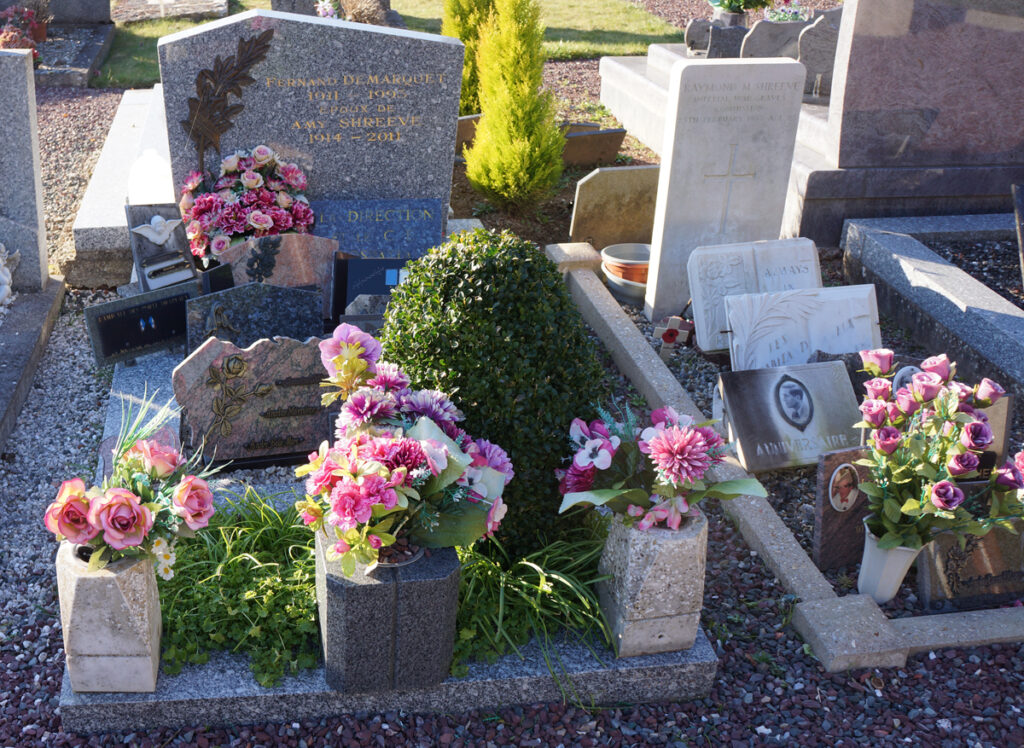 Their only daughter Amy married a local man, Fernand Demarquet and had a daughter herself, naming her Raymonde Anne, after her brother and mother. She is buried with her husband in the grave next to her brother Raymond, and her father, mother and brothers are remembered there.
George Shreeve's early death was without question a tragedy, but he and Ann together created a legacy of service and remembrance, to which thousands of visitors would be grateful, and of which any family could be proud.
May they rest in peace.