Recollections of "Bill" Bailey's widow Pat
In the winter of 1946/7 a small package in a buff MoD envelope, was delivered to me where I lived in South East London. I was excited, for I knew it contained the one personal effect that I had asked to be returned from Fontaine L'Etalon, a small village in northern France. The battered and scarred remains of the silver cigarette case had been collected by a villager, from the bodies amongst the wreckage of a Halifax Bomber scattered across the French countryside on the morning of 25th June 1944. It was recognisable only from the initials and date I had inscribed on it when I gave it to my Airman to celebrate our engagement on 14th November 1942.
Earlier, in 1940, I had attended Catford Central Girls School and was fortunate to be amongst the early evacuees sent into Kent to avoid the anticipated bombing of London. Fortunate, because, a few days later, the adjoining Junior school, took a direct hit from a low flying Heinkel. It was a well-publicised incident, being the first of its kind and over 80 young children were killed. The surviving children were led out through the debris in the hurried evacuation of the school. As an evacuee, my letters home caused my mother to visit me and being unhappy with my accommodation, she promptly took me back home to Lee. I therefore completed my education at night school and then took a job with an Insurance Brokers in Gracechurch St., in the City.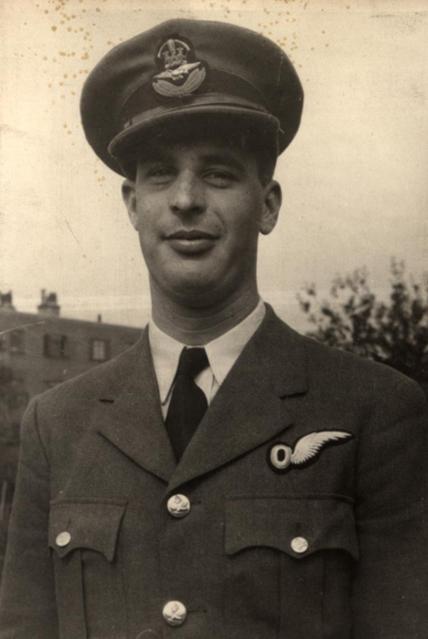 Every day was different as transport to and from work was frustratingly difficult due to the bombing so you just arrived when you could. Bill Bailey, as he was then know, worked in the same office and we would walk over London Bridge together in the hope of catching a train back home. He lived near me in Catford, having been head boy at Catford Boys School and we were both members of he same Athletics club, training in Ladywell Rec. on Sundays. By the time he was old enough to sign up, we were in love and courting as best as one could in those dark days and nights, so that towards the back end of 1942 we became engaged.
Bill trained as a navigator in Canada between March and July 1943 and after his return went through the usual routine preparatory to joining a "squadron" including "crewing up" at OTU. And so it was that his crew attended our wedding at St Mildred's church, Lee on 8th April 1944.
We had only a few days together after our wedding before my Bill had to return to Yorkshire and we spent our last day together walking around Beckenham Place park. That evening we had to spend in an Air Raid Shelter as the bombs were dropping incessantly and we were unable to get home for some privacy. When we could, we shared a fag out of the case, huddled together near the shelter entrance. The next day I could sense that Bill was pleased to be on his way back to the North to take up the battle against the doodlebugs. 
After 1663 Heavy Conversion Unit at Rufforth where they were joined by "Bill" Sykes the Flight Engineer, the crew were posted on 31st May to 102 Sqdn who, at that time were engaged in the containment of the V1 threat and smashing the Belgium and French rail system in preparation for D-day. The bombing of Peenemunde in July 1943 had delayed the V weapons development but, even so, of the 10,000 manufactured and launched some 2419 were to reach London. And so the airmen of Bomber Command were given little time to relax. 
On 25th June, 308 heavy bombers led by 15 OBOE Mosquito aircraft were detailed to attack 3 V1 launch sites and my husband's crew were n the 4 group formation due to attack the site at Montorgueil. As the aircraft moved in to attack a 10 Squadron Halifax, for whatever reason, released a 1000 lb bomb which dropped on to a 77 Sqdn Halifax KN- N, taking off its wing, throwing it out of control so that it collided with my husband's Halifax. Both aircraft fell out of the sky in flames and crashed in woods, 2km from the small village of Fontaine L'Etalon. My Navigator, Sydney James Bailey, was buried with the 13 other aircrew in the village churchyard under the watchful eye of German officers. The personal belongings recovered by the villagers were taken to the German Red Cross and later rescued by the advancing Allies a few weeks later.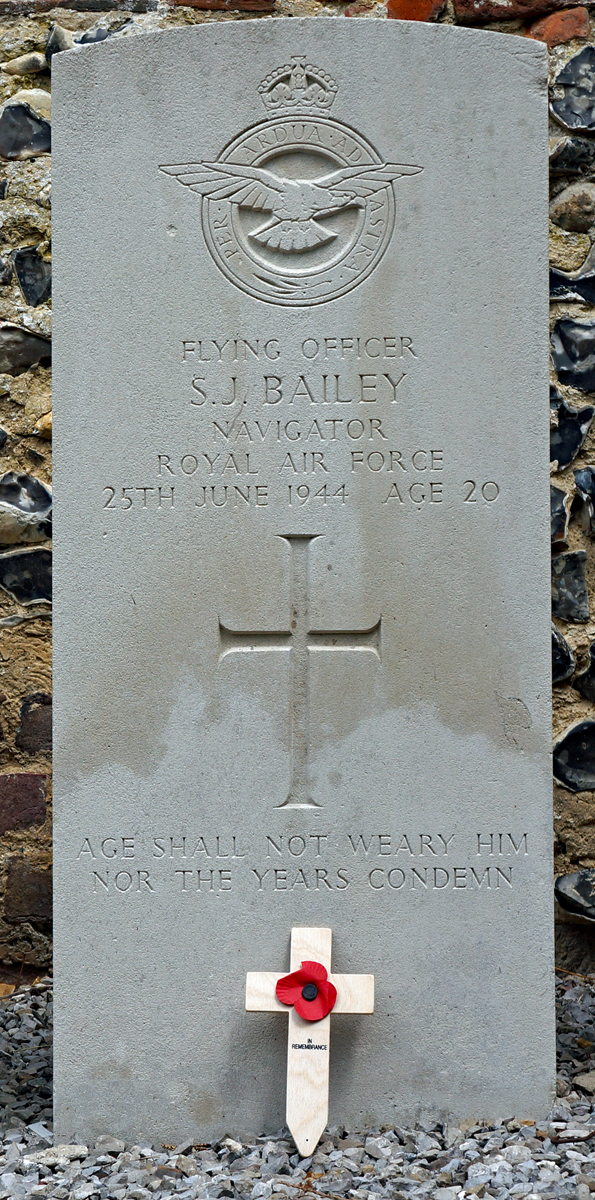 When the cigarette case was returned to me in its battered and scarred state I took it to James Walker, the jeweller in Lewisham, where I was told that it was unrecoverable. When I told them its history, they sent it to their silversmiths in Birmingham who returned it in absolutely pristine condition. I often take it out of the drawer to give it a polish and although I still smoke, I do not use it to hold my cigarettes. It's too precious for that! I have had two further very happy marriages but my beautiful airman always maintains a very special place in my heart. 
For the full story of the crash see our post 1944 Air Disaster
We are indebted to the compilers of the website www.102CeylonSquadron.co.uk who have shared so much detailed information.