Remembering John Davidson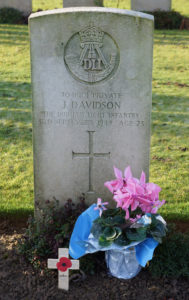 Our first commemoration of 2020 took place in London Cemetery by High Wood. It was just the two of us, John with his camera and me with flowers and a small wooden cross. We had received an email from the niece of John Davidson who was killed on the 3rd September 1944. John Davidson's sister wanted some flowers to be laid on his grave. They had contacted us simply because our B&B is close to the cemetery. Well that was lucky wasn't it!
We now remember three men who are buried in London Cemetery, John Samuel Hocking, Harry Taplin and now John Davidson. They were all killed on the same day and are buried in the same row. They all helped to liberate this country that we so love.